There are lots of ways you can get involved at Pinpoint. Find out more about: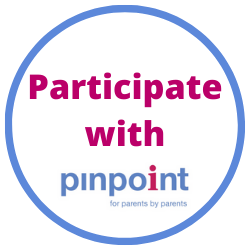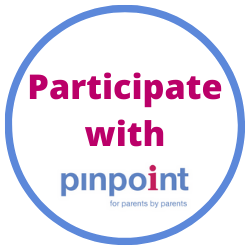 We hold regular focus groups. Sign-up for any that interest you here.
Other ways to join in
There are so many other ways that you can join in and keep up to date with what's going on with SEND in Cambridgeshire:
subscribe to our newsletter for details of our upcoming sessions, opportunities for parents/carers to participate, and all the latest SEND news for Cambridgeshire

invite us to come to events where you live to meet other parents
help promote Pinpoint by taking our flyer to your local preschool or school, GP/Health Centre, Children's Centre, library and other places where you know parents will see them. You can download a black and white printer-friendly flyer or email us if you would like some hard-copy leaflets sent to you
tell us what information you think should be on our website and if you notice anything that needs updating
Your views matter: it's the law
YOU are the expert on your child or young person and know best what works for  them and what doesn't. 
Whether you want more help at school for your son or daughter, an EHC plan for your own child or want to improve specific county-wide services such as wheelchair, sensory support or continence or are concerned about  issues such as bullying, transport or mental health, your views and experience really are important.
Cambridgeshire care providers need your involvement in designing, developing and planning services for children and young people. And the 2014 SEND reforms make it clear that children with additional needs and disabilities and their families are equal partners in services and in deciding what should be provided.
You need good information to make informed decisions. And should be asked what matters to you and be listened to.
We're here to support you by:
making sure you have the information you need
finding ways to ways to involve you
empowering you to take control
What we do to make your voices heard
As a Parent Carer Forum, Pinpoint, is the way to get parent carer voices heard here in Cambridgeshire, regionally in East Anglia and nationally.
We work to ensure you are heard by those who commission (buy) your services – we do this by formally holding a meeting (Partners in Commissioning) with the Local Authority and Health Service Commissioners each term.  We also hold adhoc conversations as issues arise to ensure that service providers have the opportunity to react quickly.  We proactively contact services to ensure they know what is working, is not working and what would be 'better if'.
We work with those who make local policies that affect your child and young person, in education, social care and health to represent your concerns and to ensure that they understand your needs and the aspirations you have for your child / young person. The Local Authority and Health Service are committed to working with us and we have a seat on all the strategic boards that oversee and direct policies relating to our children and young people.  We are round the table as equal partners on your behalf.
Co-production is the way we work with the Local Authority and Health staff.  We promote co-production at every opportunity – it's were we work together as equals with professionals and services, all listening to each other, valuing each others view points and doing the best for the child or young person.  We have worked to ensure the Cambridgeshire and Peterborough SEND Strategy and Action Plan have been co-produced.  Co-production should happen when polices are developed and services commissioned. Good co-production also means working together when implementation takes place and this is happening in Cambridgeshire through formal structures (boards and working groups) and by working with officers.
Pinpoint is part of the regional network of parent carer forums.  We attend the Eastern Region Parent Carer Forum Network termly meetings and use this to share good practice and learning that would benefit Cambridgeshire parent carers.
We are also part of the National Network of Parent Carer Forums.  This network enables us to feedback to central government to ensure your voices are being heard at the highest level.  We provide this feedback when requested or when there is a pressing issue.  We attend the annual national conference to add your voices alongside the voices of parents  from all over the country.
Pinpoint uses its connections to work with national officers and civil servants in Government to raise issues and seek clarity when needed.
By joining in,  you have the opportunity to: get your voice heard; to shape services; and to improve what is on offer for your child and young person.  This section of the website lets you know all they ways in which you can join in and participate.  And you can always contact us at anytime to raise and issue or share feedback: information@pinpoint-cambs.org.uk