Sarah Conboy
Chief Executive Officer
Sarah joined Pinpoint in October 2017. She is a mum of two boys – one with additional needs – and has a background in education policy and teaching. A former primary school teacher and SENCo, she has also headed up a school learning difficulties department and worked in various roles for the Department for Education, the Teacher Training Agency and Cambridgeshire County Council.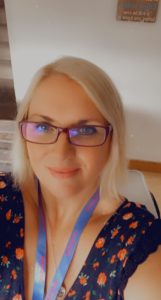 Lisa Belton
Deputy Chief Executive Officer
Lisa was appointed as Deputy Chief Executive Officer for Pinpoint in February 2022. Lisa first came to Pinpoint as a parent carer to seek support in respect of her own children. Having realised the value of that support, she quickly volunteered to become a Pinpoint Parent Champion. In November 2021, Lisa joined the Pinpoint staff team as Opportunities Area Workshop Host, having been self employed for the previous 6 years working in assessment and training for health and social care staff. Prior to that she has an extensive social care background. She is passionate about supporting other parent carers to get the support that they need when they need it and not to feel alone. Lisa is a Mum to 3 boys all with additional needs. Lisa is keen to help professionals supporting children with additional needs and their families to work together so that families get the help they need in the way that they need it.

Linda Green
Partnership & Participation Coordinator and Volunteer & Engagement Manager
For the past 15 years Linda has worked in the Third Sector researching, designing, delivering and managing services for young people and adults with learning disabilities. Her roles have given her insight into the needs and challenges around disability and allowed her to create services and resources that can alter perspectives, both for those who have a disability and the wider community. Her passion and drive for "normalisation" is for both those living with disability and their families.
Linda also happens to be mum to Jonnie Peacock Gold Medallist for Great Britain. As proud as she is of Jonnie's achievements, she also remembers the pain and difficulty of the journey from when he contracted meningitis to London 2012 and the dramatic impact it had on the family.

Bianca Cotterill 
Finance Manager
Bianca has been a volunteer with Pinpoint for many years  involved with the Continence Action Group, Wheelchair Forum and Lifelong SEND Pathway. Her background is in finance, but she is passionate about many issues across health, education and social care because her 19 year old daughter has profound learning and physical disabilities. Having recently had direct experience of the transition into adult services, Bianca is keen to continue working with various groups and service providers to "raise the bar" where it's needed.

Michelle Quail
Communications Officer
Michelle is mum to four children, two who have additional needs. Michelle joined Pinpoint as a Parent Champion volunteer in 2019. She wanted to help other SEND parents through the work that Pinpoint does because it was so beneficial to her and her family. In November 2021, she joined Pinpoint in an official capacity as Opportunities Area Administrative Support Assistant and in September 2022, Michelle took on the role of Communications Officer. She has a background as an Early Years Practitioner, a Support Worker for Adults with Additional Needs and an Administrative Assistant. She studied Social Work and Psychology with a special interest in Child Development at University. Since the birth of her children she has focused a lot of her training and interest around Autism Spectrum Disorder.

Karina Whittington
Workshop and Tii Hub Host
Karina has been self-employed for the last 10 years as a martial arts instructor, running her own academy. During that time she was also employed for 5 years as development manager for a retirement development company. Karina is also employed as a private carer for one gentleman who she has worked with for 6 years. As well as being busy with various part time jobs, Karina is also studying Counselling at Bedford College and is a mum to 3 boys. All 3 of her children have a hereditary liver disease and 2 also have SEND needs. During the battle to receive help for her youngest son, Karina became very passionate about helping and supporting other SEND parents and this led her to Pinpoint.

Sara Basuc
Engagement and Training Officer
Sara has worked with Pinpoint since 2019 as a funding partner and was so impressed with what we do that she applied to join the team.  Passionate about learning and access for all.  A mum of 2 young adults one with additional needs.  Sara has a background in education at all levels from early years to undergraduate, teaching experience from secondary through to higher education.  She has been an Education Inclusion Officer for the Local Authority across Cambridgeshire and neighbouring authorities, worked in the Multiple Agency Safeguarding Hub, led multidisciplinary teams in Early Help Districts to more recently Project Led for multiple Inclusion projects working across the sector, from Local Authority to education, third sector partners, health and the DfE as part of the local Opportunity Area.

Amy Wyles
Deputy Communications Officer
Amy works closely with Michelle to ensure that Pinpoint's content reaches the people who need it most, the parents and carers raising children and young people with additional needs in Cambridgeshire. She is a qualified Solicitor with a background in private client and mental health work. She is mum to one daughter who is bright and loving, and also happens to be autistic and suffer with anxiety and sensory processing difficulties. Now that Amy is well underway with her own family's SEND journey, she is strongly driven to help other families navigate the many systems and processes in the SEND world. Since her daughter's diagnosis, Amy has spent several years learning about the areas that interest her the most – autism, sensory processing, anxiety, Occupational Therapy approaches for children, alternative learning strategies, autistic adult perspectives, hypermobility, and child development.