Explaining your child's needs to others
One Page Profiles

These templates help you create a single page which tells another person all they need to know about your child.  These brilliant templates were created by Sheffkids and can be downloaded and personalised on a computer or printed off and handwritten.
Imagine you only have a few minutes to share the information and boil it own to the absolute essentials.  These are designed to be written by the child or young person so better still if they can help and they one page profiles read as them talking.
For younger children – this link will give you  so many wonderful designs that we simply couldn't do better!
And this one might work better for older children / young  adults.
More one page profile ideas: on our Preparing for Adulthood employment page
Activities Passport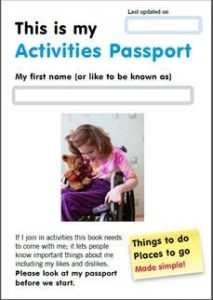 Use it for after school clubs or perhaps a school outing/visit. Share it with  activity providers such as Girlguides, Scouts or family fun days, etc.
You can add information such as:
your child's likes and dislikes
their medication
what to do in an emergency.
With the passport you don't have to repeat information every time your child goes to an event (you may be asked for additional information from the activity provider i.e. permission to take photos). The Passport is for families with a child/young person up to age 25.
You are entitled to a Passport if your child/young person is enrolled on the SCIP Database and has a disability or additional needs. Further information on how to get on the SCIP database can be found here.
Books to help SEND youngsters
You can find most of these books in Cambridgeshire's Libraries to borrow free of charge.
Amazon offer new books but also do second hand books at very reasonable prices too  – if you shop with Amazon Smile they donate to us free every time you shop.  Use this tool to ensure you arrive at Amazon Smile every time you shop.
Have lots of books on disability including the categories listed below. They also have Bookmark that provides information on disability and children's books. Bookmark is full of advice and book recommendations for families, teachers, librarians, authors and publishers.
There is even a daily offer of story reading online and activities to do.
More than 60 books listed and reviewed about disabilities and differences.
Has a wide offering, including picture books.
Picture books covering lots of special needs and disabilities.
Book lists including children with physical needs and disabilities.