Occupational Therapy Assessments
Your child or young person with disabilities may need specialist equipment for daily living activities – such as bathing, toileting, seating, sleeping and moving.
Contact Cambridgeshire's Occupational Therapy (OT) service in the first instance. A children's OT can assess and advise on a child's developing abilities, including equipment to help them with everyday tasks.
The OT will visit you and your child at home to fully understand your situation. And can then suggest and discuss with you specific equipment and /or changes in routine which may help you. The OT may arrange for your child to try equipment and in some circumstances may arrange for an equipment supply company representative to visit you and your child.
Cambridgeshire Children's Occupational Therapy Service website
Information on equipment at home can be found here.
Assistive Technology Service – Technology Enabled Care
Cambridgeshire Assistive Technology Service has a range of resources and equipment that can be loaned to families free of charge. It is jointly funded by the county council and Cambridgeshire & Peterborough Clinical Commissioning Group
The service  provides technological devices to support people and their carers with the challenges to everyday living and help with their independence.  The team also offers 'Telehealth monitoring' for chronic long-term conditions. This means that they can monitor patients' vital signs from afar.
Anyone who needs advice on equipment for everyday living can contact the team on 01480 378160 (9am to 5pm, Monday to Friday, answerphone when staff are not available)
or email TEC@cambridgeshire.gov.uk
The team take referrals from anyone, for anyone, for all ages and all diagnosis. There is a simple referral form that can be completed and returned to the team. An 'assessment of needs' is carried out; the equipment is then sourced and supplied.
SEND Library service
Do you know that there's a special educational needs service at Cambridgeshire Libraries?
It offers:
bag book packs (multi-sensory kits)
ClearVision braille books
giant print and large print books
stories on CD
books for children with dyslexia and other reading difficulties
Autism collection on recommended books
More details about the service on the county council website
Safe & Well Service Cambridgeshire

Free information and advice about daily living aids for adults and children.
There are options for parents to get free information about daily living aids for children and young adults by e-mail, telephone, at events  or by using a website questionnaire. You can also book a private Occupational Therapist home visit and get a list of  local retailers where you can see and try products.
Fledglings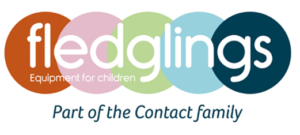 Fledglings is part of the national charity, Contact. They are a non-profit shop that helps children and adults with additional needs by supplying products and equipment that help with everyday challenges.
Fledglings has an online shop, with hundreds of products, including non-foaming unflavoured toothpaste and coiled self-tying shoelaces.
In-car safety centre
The In-Car Safety Centre has for more than 30 years, providing suitable seating to meet the needs of all children. They have gained experience working with children of all ages and their individual requirements. Listening to parents, guardians and occupational therapists they have a joint approach to achieving the desired solution. They have a number of car seats and safety accessories.
Further information and contact details are available here.
CP Sport Equipment Hire
You can hire adapted sports equipment from CP Sport to have a go at home or in your local park. This service includes delivery and set up support.
CP Sport in partnership with Quest provide a rental service to support people with cerebral palsy and physical impairments access sport and recreational activity. There are currently a range of Game Frames available for playing Frame Football. Hire is for a minimum of 3 months. Quest will arrange to deliver your frame, assist with setting up, and provide practical advice. You will also receive a toolkit and access to a 1-2-1 coaching session. For more information on how to hire visit CP Sport website.
Additional useful information…
Some of our Child and Family Centres have toys and equipment that you can use and, in some cases, borrow.