Need to chase or complain about services?
Bullying
Child excluded or threatened with exclusion?
If your child has been excluded from school or has been threatened with exclusion due to their behaviour, ACE can help you.
You can phone their exclusion advice line 0808 800 0327 or exclusion information line 020 7704 9822.
Support and information on when things go wrong from The Challenging Behaviour Foundation

The Challenging Behaviour Foundation are a UK-based charity that focus on the needs of children, young people and adults with severe learning disabilities and their families. They have information and signposting for when things go wrong. This includes what is meant by poor support and abuse, and who to talk to if you suspect your relative is coming to harm or not being cared for properly.
Their useful guides include information on:
Help for young victims and witnesses of crime
A new organisation has launched giving advice and support to victims and witnesses of crime in Cambridgeshire and Peterborough – including young victims of bullying, hate crime and online crime.
The Victim & Witness Hub aims to offer specialist support. To get help you can:
call 0800 781 6818
email victimandwitnesshub@cambs.pnn.police.uk
or visit the website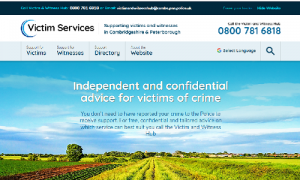 The website also offers a searchable directory of local support organisations who can help people cope and recover from the trauma they have faced.
You don't need to have reported a crime to the Police to access this free, confidential and independent advice or the support organisations listed in the directory.
Support for parents in conflict
OnePlusOne Reducing Parental Conflict digital intervention for families
Below is the link to the OnePlusOne course to help parents build healthier relationships. You are free to access this resource at your leisure. 
There are 4 different courses on offer which are detailed below:
Me, You and Baby Too – designed to help new and expectant parents cope with the changes that could happen in their relationship when they become parents and learn how to cope with stress and conflict constructively. ‍
Arguing Better – designed to raise awareness of the impact parental conflict can have on children and help parents develop better ways of managing stress and arguments together. ‍
Getting it Right for Children – designed to support separated parents, helping them to avoid the harmful situation of their children getting caught up in the middle of their conflict.
Debt – the impact of debt on relationships and support around what to do when you or your partner are having concerns around money.