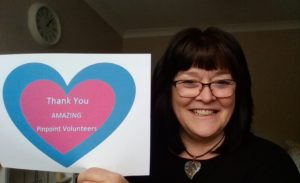 It is never enough to say "Thank You" to our incredible Pinpoint Volunteers. The truth is they are a powerful part of the Pinpoint team.
From Trustees who take on responsibilities and care about how Pinpoint is running to meet the need of SEND families, to our incredible Pinpoint Champions who have so much on their own plate, but have stepped up to help us reach more SEND parents and carers.
Pinpoint Volunteers often have so many daily reasons not to give their time to help us, but they do.
They help cascade information about our sessions and opportunities to join focus groups.
They feedback what is happening in the SEND world from the parent carer perspective in our surveys and in person.
Most of all, they let other parents and carers in our online sessions know they are the expert when it comes to their children and they are not alone.
I would like to give a special shout out to Claire, our Tii Hub Quiz Queen, who for over 2 years has given our parent carers a chuckle with the only quiz where you can still win even if you don't know the answers!!
Linda – Volunteer Manager
It's #VolunteersWeek and we want to take this opportunity to say a HUGE thank you to all our amazing Volunteers, Champions and Trustees.
If you are interested in becoming a Pinpoint Volunteer and would like to know more, have a look at our Volunteer page or please email Linda Green at linda@pinpoint-cambs.org.uk