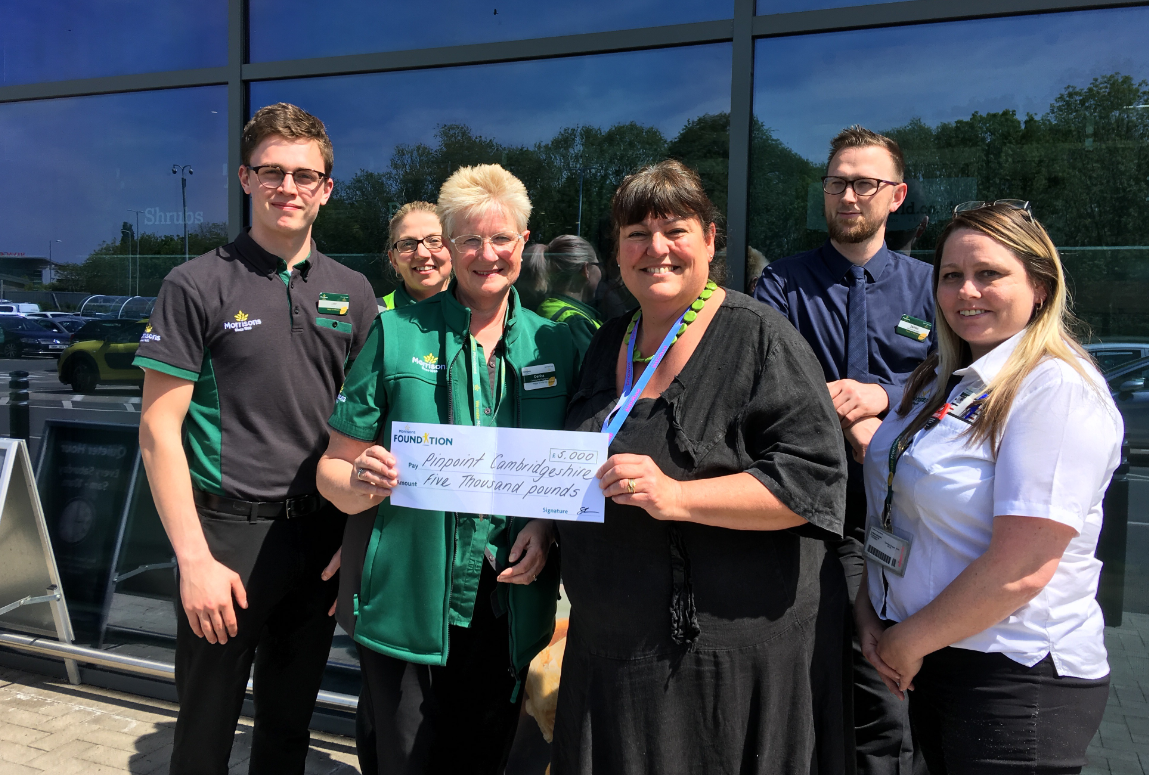 Pinpoint Charity receives £5,000 from Morrisons Foundation
The Morrisons Foundation has donated £5,000 to Pinpoint a local charity that helps parents who have children with additional needs and disabilities in Cambridgeshire.
The support from Morrisons Foundation will enable play and activity sessions to be arranged for younger service users for a 12 month period.  The additional activity sessions will provide some much needed support for parents of children with special needs, where they can get advice and information from the staff at the charity whilst their children have a great time playing with other youngsters in a safe environment.
Sarah Conboy, CEO of Pinpoint was thrilled to receive the donation, "Thanks to this great support from the Morrisons Foundation, not only can we offer more opportunities for children to play, but we can take the time to speak to parents to offer our support on how they can help their youngsters to achieve their potential."
"This very generous donation will make a significant positive difference in helping us support more parent carers and help them to find the right services for their children earlier.  It can be a real challenge to know who to ask for what help and we will use this money to help get information to families when they need it.  On behalf of all those Morrisons will help us reach through this money, a huge 'thank you'".
Denise Gable, Community Champion at the Morrisons store in St. Ives presented the donation to the charity, "I'm really pleased that we were able to help such a great local charity.  Knowing that our support will make a genuine difference to children with additional needs and disabilities and their parents really does make me proud. Helping local charities is at the heart of what the Foundation is all about and I'm so happy that we can provide this grant."
The Morrisons Foundation was set up by Morrisons supermarket in 2015 and awards grants for charity projects which help improve people's lives.  Since launching over £26 million has been donated to hundreds of charities across England, Scotland and Wales.
Local charities are encouraged to visit www.morrisonsfoundation.com to find out how to apply for a grant