Wheelchair sport Cambridgeshire
Wheelchair Racing Cambridge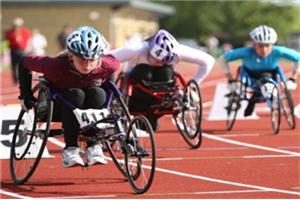 Cambridge & Coleridge Athletic Club has a Wheelchair Racing group. Beginners are welcome – no experience is needed. All the athletes in the group started as complete novices and are now racing anything from 100m to half marathons. The club has five racing chairs, along with helmets and gloves, for use by new athletes. The wheelchair section currently has three coaches and five athletes of differing experience and speed.
Wheelchair racing is open to anyone aged 14+.  Sessions are delivered by UKA-licensed Athletics Coaches. The nature of the discipline means athletes will have a physical disability that affects their lower limbs, although they may not use a wheelchair all of the time. Wheelchair racers include people who have disabilities such as Cerebral Palsy, e.g. Diplegia, Quadriplegia, Spinal Cord Injury (Tetraplegia & Paraplegia) as well as Amputees, people with Limb Deficiency and Brittle Bones.
Wheelchair dancing
Wheelchair Dancing sessions run at St Neots on Monday nights and are open to children and adults and classes are for all levels of mobility and all types of wheelchairs.
Class one, from 5.15 to 6pm, welcomes carers and family members or friends to assist if needed.
Class two, from 6.30 to 7.15pm pairs a wheelchair user and an able bodied person as dance partners.
Don't have a partner? The class will try and find one for you. This class is most suited to those who can push themselves in their chair.
Classes run at St Mary's School, Wintringham Road. Find out more on their website.
WheelPower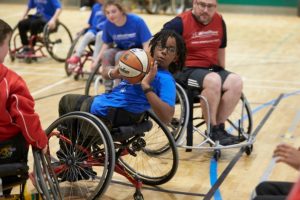 Wheelpower off a wide range of sessions across many sports and lots of online opportunities to get fit. They  have been providing opportunities in sport for people with physical impairments for over 70 years.  Based in Stoke Mandeville, the home of the Paralympic movement, WheelPower is at the heart of wheelchair sport.  From first-timers to Paralympic medallists, we support and promote participation at all levels. We have seen how playing sport can enrich lives, offering tremendous physical and psychological benefits, whatever your age or ability.

Find out more from their website.
Inclusive Badminton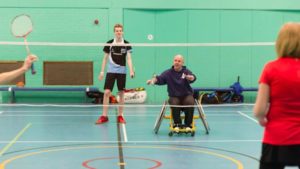 Aspire Badminton Club is an Inclusive club for all ages and all abilities. We are the only Badminton England Premier Club / Inclusive club / Clubmark Club in Cambridgeshire. We are also the largest junior club in Cambridgeshire. We run coaching sessions to help support you and improve your game. We can take beginners up to County players, and coach to paralympic standards, having trained a couple of International Wheelchair players. We have six sports wheelchairs available to use.
Visit their website for more information: https://parasport.org.uk/opportunity/aspire-bc-cambridgeshire-disability-inclusive-badminton
Cycling – adaptive bikes
Depending on your needs you may find that the two adaptive bike centres in Cambridgeshire have a suitable bike for you for take for a spin.
Hinchingbrooke Country Park in Huntingdon offer Pedals
They have a fleet of adapted bikes available to hire for use in the park. The park itself has a wealth of wildlife everywhere which covers 170 acres, and includes open grasslands, meadows, woodlands and lakes. Whether you are riding a bike, walking the dog, exploring with your children, enjoying tea and home made cakes in the cafe or having a picnic, you are sure to enjoy this beautiful space.   This well adapted park has two routes for Pedals Scheme adaptive cycles and even has a specially designed and varied course for mountain bikers to use as well.
Visit their website for the latest information.
Milton County Park in Cambridge offers You Can Bike Too
The centre began with Aaron's wish. His wish was to cycle with his family and friends, to experience the wind on his face as he pedalled to freedom and independence. He met Ruth, a keen Cambridge cyclist and incredible people connector, who helped Aaron fulfil his dream. Importantly the team who made the project happen are people with learning difficulties and mixed abilities, and their aim is for the whole community to use it!   Milton County Park covers 95 acres and is located north-east of Cambridge city centre. It is built on old gravel pits and provides a natural habitat for wildlife, with large water pools and wetland areas, meadowlands, a play area and many pathways for horses riders, walkers, cyclists and wheelchair users. There is a full programme of regular and special events held at the park throughout the year too.